The firm of W K Webster & Co took its current name in 1915, after its erstwhile Partner William King Webster. The firm's origins, however, trace back to pre-1861 when Dr. E. Wendt operated as an Average Agent for German, Belgium and Dutch Marine Underwriters. Dr. Wendt was a well known figure in international marine insurance circles. He was the author of a text book on Maritime Law and a leading figure in the introduction of the International Rules governing General Average, established in 1890 as the York Antwerp Rules.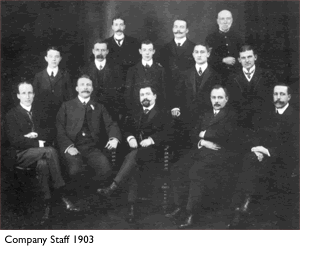 Gradually, the role of the company expanded. By the 1880's the company had also acquired agency representation for many Scandinavian and some USA based Underwriters. Whilst still predominantly a Hull Average Agency, the firm had also secured considerable representation for Cargo Insurers and it acted on behalf of Hull Mutual Clubs and Marine Insurers located throughout Europe and the United States.
In 1922, on behalf of Cargo Insurers, the firm opened its dedicated Recoveries Department. This secured redress from Shipowners and other Carriers for damages and losses which had resulted in claims under cargo policies.
From the mid-1940's, the firm expanded and prospered further by attracting appointments as Cargo Claim Settling Agents from Insurers in the Far East and in India. By the 1960's, W K Webster & Co was firmly established as the foremost Average Agent acting for Insurers across the entire globe.
The major expansion of services commenced in 1960's. First, continued growth meant that the firm's City of London premises became too small. Whilst the firm continues to maintain its City presence, it's administrative offices moved some 10 miles but remain within Greater London. The additional space, equipment and cost saving have significantly assisted the firm in its continued expansion and success.
This expansion has been both in terms of type of service offered and in geographic location of offices:
In addition to Hull, Cargo and Recovery Departments, the firm formed a specialised General Average & Casualty Management Department in 1975. The department protects the interests of cargo interests in all types of major marine and financial casualties.
Two separate companies servicing liability claims were formed - Pandi Claims Limited, concerning itself with ocean transport liabilities, and International Surveyors and Adjusters Limited, handling road/rail/logistics liabilities.
Within the W K Webster Group, there are also five survey operations which specialise in either Cargo or Hull & Machinery surveys.
Regional offices were set up which now form an integral part of the firm's worldwide service capabilities. In Singapore, W K Webster (International) Pte Ltd was started in 1971 and in New York, W K Webster (Overseas) Ltd was started in 1982. Whilst overall direction remains in London, the New York office has responsibility for claims matters on the North and South American continents, London for Europe and Africa, and Singapore for Asia and Australasia.
Expansion into Europe has been a focal point during the 1990's with the firm purchasing Van Peborgh & Co., in Antwerp, in 1992 and establishing W K Webster & Co (Nederland) B.V., in Rotterdam, in 1994. These two companies have now been merged into one, ISA (Benelux) BV.